The Mission: How It Happens
Warm The Children is a family of 27 non-profit organizations whose missions are the same: providing new winter clothing and footwear for their community's neediest children. All 26 organizations are IRS 501 (c) 3 tax-exempt. For more information, please email us at [email protected]
The recipe for Warm The Children is simple: A local newspaper and/or a service organization (like a Kiwanis or Rotary Club) asks its community for monetary donations to be used to purchase new winter clothing and footwear for local children in need. Families to be served are identified by local social service agencies or public-school personnel.
All dollars received go to the children; sponsoring organizations absorb all administrative expenses.
The shopping is done either in person at a local retailer or online. For shopping in person, volunteers meet and assist the families as they shop and during check out. The family leaves with their new items.
For online shopping, families make their selections from a preapproved retailer. Warm The Children submits their order and their items are shipped directly to their home free of charge.
All purchases are paid for with donated dollars.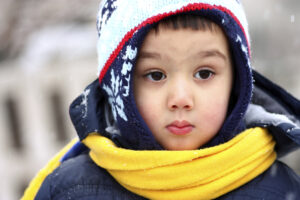 How To Donate
Donors may send checks to the designated address on the spreadsheet (below), or make online donations via the provided link.
Does Your Family Need Warm The Children's Help?
Families wishing to be served by Warm The Children must live in or near a program location (see listing below). Email or contact as directed.
How It Came To Be
Warm The Children was founded in Torrington, Connecticut in 1988 by newspaper publisher Mack W. Stewart. On the way to work one snowy November day he saw children waiting for their school bus. It was cold and windy and the kids weren't dressed for the weather. Stewart wondered how, in rich Connecticut, could there be children going to school without proper winter clothing. He'd worked for a newspaper in Troy, N.Y. which had a program providing new winter clothing for children in need. Stewart felt something similar was needed in Torrington. He discussed his idea with local social workers and fellow employees; all said, "go for it." One fellow employee suggested calling it Warm The Children.
In the first year, the program raised $20,000 and served 249 children.
In 1991 Stewart moved to Middletown, CT to manage that community's newspaper. He brought Warm The Children with him; it was an immediate success. But in 1993, Stewart was asked to resign because he was unable to reverse the Middletown newspaper's economic woes.
Rather than go looking for another newspaper job, Stewart decided to spend the rest of his life urging newspapers and their communities to embrace Warm The Children.
Today's 27 Warm The Children programs (see attached spreadsheet for details) spend $800,000 annually on new winter wear for 10,000+ local children in need.